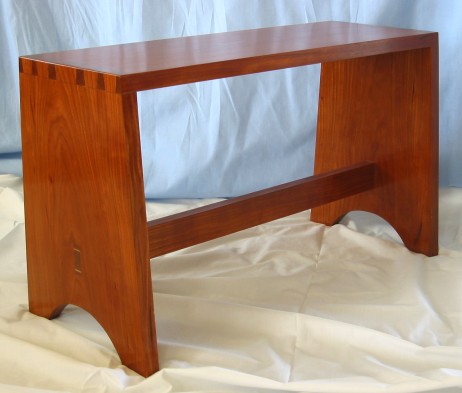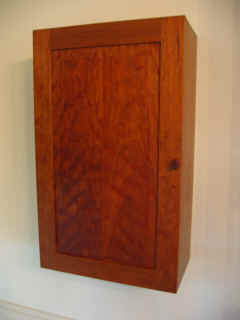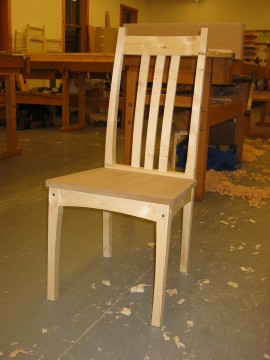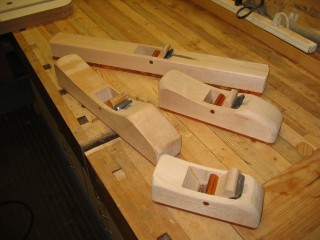 24-October-2007
My name is Greg Wandless. I live in Sterling, VA, a western suburb of Washington D.C., with my lovely wife of 15 years, Amy. My day job is as an analytical chemist for the federal government where I do isotopic analysis on various materials in support of research into the causes and effects of acid mine drainage on the environment, and the source and formation of strategic mineral resources.
I have been woodworking since I was kid. My father had a shop in our basement and was always making and fixing things for and around the house. So I credit him with giving me the woodworking bug. Most of what I have learned has come from him and books. In 1980 I picked up a book that would have the greatest influence on me as a woodworker. That book was by a fellow named James Krenov, The Fine Art of Cabinetmaking. Since then I have focused on improving my hand tool skills and producing quality objects. In 2000 I felt I had learned all I could from books and felt the need to get some hands on teaching. So I signed up for a two week class in "Basic cabinetmaking" at the Center for Furniture Craftsmanship in Rockland, Maine. The class was taught be Peter Korn and Carter Sio. I learned so much during those weeks and it went a long way to improving hand tools skills.  The cherry bench was the product of those two weeks. I got so much out of that first class I signed up for the "Intermediate Cabinetmaking"  taught by Chris Becksvoort in 2001. The cherry wall cabinet is the product of the that trip. In 2002 a class called "Design and Craftsmanship" taught by Craig Stevens and Ejler Hjorth-Westh was offered. Since I have been trying to improve my design skills I signed up. I did not know it at the time, but both Craig and Ejler are students of James Krenov from the College of The Redwoods. Upon arriving at the first class and learned that they were students of James Krenov I knew it was going to be a good two weeks, and I was not disappointed. I went to this class with thoughts of making something I had never tried so I decided to make a chair for my wife's roll-top desk. I left there with two crude mock-ups, a head and notebook full of ideas and information and a which works beautifully. In 2004 I took the "Advanced Furniture Making" class taught by Craig Stevens and John Fox. This class more than any other improved my design ability and instilled upon me the need to always "do my best work, use sharp tools and to find my own voice". Make the piece you own, put you fingerprints on it.
The more I learn and the more things I make I find that it is the process that enriches me the most, and defines for me whether my work is in the company of "fine craftsmanship". If I take the time to reflect on what I am doing I find that the steps between idea and final product are the most rewarding. While I get the greatest satisfaction from the work, seeing the smile of happy niece or nephew is pretty good too!
Over the past few years I have spent more time turning, deveoping my turning skills and my eye for shape and form. I do enjoy the rewards of seeing a beutify form develope out of a hunk of tree that I just cut a few hours earlier. While I still enjoy the process most, producing a beutiful piece of art or functional object in a couple of hours is very exciting. I attended my first turning class in 2005 at John C Campbell Folk School learning how to turn hollow vessels and just finished a two week class with Alan Lacer. Both classes were a lot of fun and I learned new techniques and discovered many tips and ideas that I can't wait to try.
When I am not making dust my wife and I enjoy playing tennis and volleyball and riding our bikes.